Flying High Academy children observe Remembrance Ceremony in Ladybrook Square
News
Posted on: January 7, 2022
Partnership: Flying High Partnership
Children belonging to the School Council of The Flying High Academy, Ladybrook, held their own remembrance service at the memorial on Ladybrook square.
The service was led by Rev. Chris Lee and was attended by local dignitaries and community members.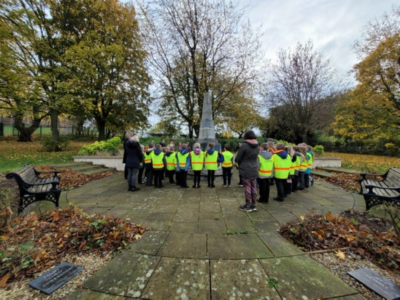 Catherine Beaumont is Year 3 Teacher at Flying High Academy and said, "The local memorial commemorates all of the fallen, but we were especially thinking of T. Cheeseman who was from Ladybrook, and we were grateful to see that his parents attended the service."
The service explained acts of remembrance for the children's benefit, followed by prayers, and the laying of a wreath by Year 5 pupils Marcelina Lamch and Zachary Chater.
Pupils Kaiya Hand, Taylor Pownall, Matthew Hooper and Deighton Carwell–Cooke also read poems followed by a minute of silence and the last post. It was ended with another prayer and the singing of the National Anthem.
Catherine said, "We were also joined by some Year 4 children on their way to visit the library who had decided to show respect at the memorial on their way past. All of the children were incredibly respectful. The Year 6 poems were poignant and local community members were kind enough to say how well behaved our pupils were at this important event."